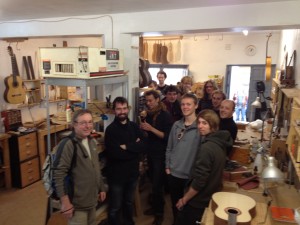 This month of January 2012 we were honoured with a visit from the Ilsa school of lutherie. 18 young students and 3 teachers all squeezed in the workshop to meet me, see my work and discuss the European Institute of guitar making here in Andalucia.
Ilsa is a government supported institution devoted to teaching the arts of Lutherie to young people from the age of 16 to 19 or 20. They follow a broad curriculum involving the normal studies of young people of this age group but follow the course of bowed and plucked string instrument making and restoration including theoretical aspects, workshops, masterclasses , apprentice projects and visits to other luthiers!.
We had a great day, lunch all together in the Chorillo bar in Plaza San Jose and then some free time on the beach, with at least one brave student swimming in the mediterranean sea!
To see more information go to the ILSA International Lutherie School website http://www.ilsa.nu